FLAT EARTH: Makes Sense To Me
"The continents are in the center surrounded by vast oceans. Surrounding the whole flat earth 360 degrees is the Antarctic ice wall, hundreds of feet high. It is endless and goes on for thousands of miles. It holds all the oceans in. There are documented accounts of people traveling along the ice wall for thousands of miles without seeing any inlet. If you travel in any direction on your continent you will come to the ocean. Then you would have to get in a boat and travel south to the ice wall, then you would have to trek for who know how far along the ice wall to the "edge". No one knows how far it is because no one is allowed to freely explore thanks to the Antarctic Treaty and military protection of Antarctica. What are they hiding?"
https://flatearthscienceandbible.wordpress.com/2016/02/10/flat-earth-frequently-asked-questions/
Bedford Level Experiment
The Bedford Level Experiment was a series of observations carried out along a six-mile length of the Old Bedford River on the Bedford Level, Norfolk, England. The experiment was often performed during the nineteenth and early twentieth centuries. Most results have served to prove Flat Earth Theory, and although a few have claimed otherwise they have been soundly disproved by Flat Earthers. The Bedford Level Experiment remains one of the most widely-accepted examples of Flat Earth proof.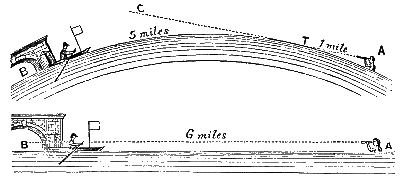 "Have ye not known? have ye not heard? hath it not been told you from the beginning? have ye not understood from the foundations of the earth? It is he that sitteth upon the
circle of the earth
, and the inhabitants thereof are as grasshoppers; that stretcheth out the heavens as a curtain, and spreadeth them out as a tent to dwell in: That bringeth the princes to nothing; he maketh the judges of the earth as vanity."
Isaiah 40:21-23
THE ARCTIC ICE WALL